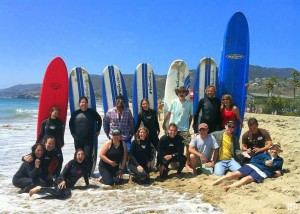 Recently I co-led a workshop I created with my colleague Karen Pery. It was a daylong beach leadership retreat called Into The Fire Session (ITFS) held in Malibu California. It was one of the most enjoyable, amazing and worthwhile things I have ever done in my life.
Karen and I have unique way of looking at the world. We are like a couple of six year olds wondering how we can find magic in the midst of everyday life. We imagine how play, awareness and connection can change how we feel about our experience, transforming our lives from being a grind to being a playground.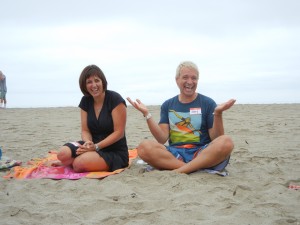 Don't get me wrong, we don't have any illusions that life is all fun and games or that life's not difficult at times or that there aren't large swaths of pain and suffering we must endure.
We believe that there is a way to feel life fully each day. We feel that if we pay attention to our experience we can go from a living a mundane existence to one that notices everything in appreciation. That we can learn to be less reactive and we can choose to be more gentle in how we respond to life's annoyances.
We feel to be human is to desire new, breath taking experiences. That's why we combined surfing with a day of experiential learning to help people wake up to their lives. To start seeing how we have choice in how we decide to "do" our lives.
Our day in Malibu was blessed with sun drenched skies, relatively warm water and loads and loads of dolphins frolicking up and down the coast. We had 16 excellent participants who all got wet in the coolness of the Pacific and who all became surfers that day. They also shared how easy it is to get stuck in a pattern and how they committed to living more and larger each day in greater awareness.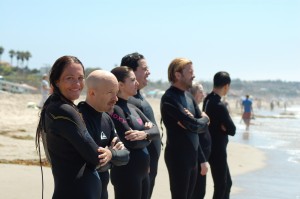 We look forward to creating more Into the Fire Sessions in Malibu, Tofino BC, and Hawaii as well as other surf friendly locations in the world. If you missed the first one, don't worry there will be plenty more.
 Here are some testimonials from some of our participants:
"The [Into the Fire Sessions Surf+ Leadership] retreat shifted my mindset in the sense that I'm re-inspired to tackle things that I had given up on. I have a tendency of giving up when I get stuck, hurt, frustrated, or defeated. Surfing has different meanings for me. As a child, it meant the fear that I wouldn't be as good as other family members that surfed. It also meant fear that I could get injured again. As an adult, surfing was something that I avoided like the plague because of those childhood experiences and always made up excuses on why I never tried again. I feel like I was able to get over that wall and I feel more equipped to deal with other barriers (professionally and personally) that may be holding me back." – Claudia, Pasadena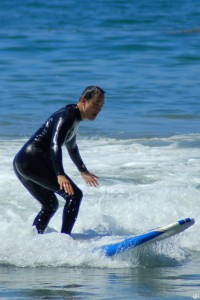 "Learn to surf?  I don't even know how to swim!  Yes, I'd say I threw myself Into the Fire. Reflecting on that amazing day, I became aware of a transformation that occurred in both myself and the group.  Nervous anticipation led to required participation which finally culminated in active contribution with a desire to share personal experiences for the benefit of the group. These lessons in leadership were nurtured deliberately yet gently by Gary and Karen and I was implementing them with my team Monday morning! The setting of the workshop was brilliant because I can recall the lessons learned simply by closing my eyes and visualizing the sand and the surf. Brilliant stuff! I can't wait for the next Into the Fire Session!" – Kelvin, Vancouver