The Napali Coast is one of the natural wonders of the world. Situated on Kauai's Leeward side its' rugged sharp peaks jut out from the ocean like a razor's edge.
 There's a trail  along this coastline that is about 13 miles from start to finish. It's arduous (even without a pack), it's up and down and back up again, over and over. My wife asked me to take a hike with her on a short version of this trek to a magical beach two miles in from the start. She is good at finding fun things to do. She's great at following through. We ventured early one morning and drove to the northern tip of Kauai to explore.
Once there we found the entrance to the trail and the first thing we noticed was the steepness of the grade, and that the rock, roots and dirt that made up the trail were arranged in a way that allowed for any manner or means of following the path. There was a foothold anywhere you looked.
A thought came to mind as I was trekking this path. My feet knew exactly where to land each step of the way.  My eyes were a few yards ahead, or looking at plants, vistas of ocean and taking in the majesty of this place, but my feet knew where to land. They instinctively found their steps, their place on the trail.
As we hiked up, up and beyond we caught our first glimpses of turquoise sea. We then were obliged to trek down to a gulley, only to hike back up higher, to an even more picturesque view. We ended up at an otherworldly beach that was intersected by gorgeous stream. It was a view out of a movie. It was mystical.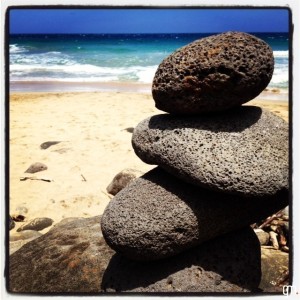 My take away from this is that we need to  get up and go. You often don't need to do a lot of planning, just some common sense thinking ahead. Next step, take the first step and go. Your heart is going to know just where to land each step of the way. All that's left is to enjoy the journey and notice the stuff that pops up along the way. It's that simple. It's that difficult.
I'd love to hear about the journey you want to take.
I'd love to walk along the way with you.