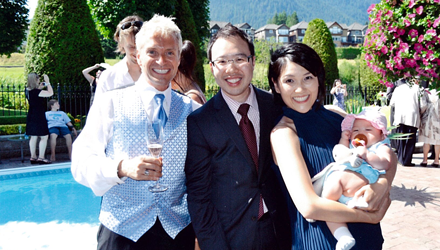 The financial industry, especially the retail bank sector, can be one of the most stressful places to work in. The pressure to always fulfill timely mandates, maintain high levels of due diligence, meet all compliance requirements, while also trying to meet both client objectives and business objectives can become overwhelming.
I have known Gary since 2006, when I was his Financial Advisor at CIBC and not only was he a great client, but later became a trusted friend of mine. I always enjoy a good chat with Gary over a nice cup of afternoon Latte, appreciating life in general.
Gary has always been an inspiring individual, and seeing how his life continues to transform has effectively worked to bring positive changes within my life. Most recently, Gary helped me through a difficult career decision that had a major impact in my life.
As mentioned previously, despite the challenging stresses and very long working hours while I was working with the retail banks, my job security and career path were very stable. Due to the accumulated experience and strong networks I had within the organization, I was comfortable and successful.
However, life never remains stagnant. My wife and I were expecting our first baby, and I was no longer able to sustain my long working hours. My common sense told me that this was not the time for a job change, as it involved risk taking, both career wise and financially. My heart and core values began to think otherwise.
After discussing the situation with Gary, I began to realize that family played a major part in my core values. Gary had inspired me to appreciate life and others around me, helping me to form my ultimate decision.
I chose to stay true to myself, garnering the courage and faith to take the risk of facing economic turmoil and job loss. And because I was willing to confidently make a decision that was right for my family and myself, new opportunities came my way.
By allowing myself to make a change that I felt was necessary, I was rewarded with a well regarded job in a Wealth Management Firm. My new position boasts stable hours, a great work environment, and the opportunity to go to work each day to fully commit myself in doing what I am passionate at, yet still allowing for valuable time with my family .
I feel like the work / life balance that I have been seeking has finally come to reality. My new career pursuit was help shaped by Gary who had me develop a "personal mission statement" that reminds me of the purpose of going to work each day. It definitely helps me focus on my core values and faith to feel more "Alive" each day.
Gary is always so passionately "true to himself" and how he lived out his life. From his example, I have in turn learned to be "true to myself". By embracing that aspect, I am able to draw strength and courage to make the big decisions in life to reflect my genuine life purpose and values.
Throughout the years, Gary has tirelessly been walking along side, listening and allowing space for me to reflect with questions and encouragement. In essence, it's almost like "listening to myself" in order to know more and be true. I believe Gary can definitely help other professionals refocus their lives and reach life goals they have always wanted to achieve. With Gary, I was able to define my "balance" in life.
Despite the different things we want to achieve, all professions will have its unique challenges, but with proper coaching and guidance, Gary can journey with his clients to discover a new perspective, and perhaps opportunities for personal transformation.
Gary is a great executive coach who is always there to listen attentively with a warm smile, never jumping to a solution, but will rather provide guidance, gentle reminders, and challenging questions to help you discover the true answer. I Would definitely recommend his service to all professionals in high stress industries.
– Billy Chin