"A rising tide lifts all boats."
From Amazon.com: … by taking on service as a way of being, any coach has access to powerful feelings of contribution, lasting relationships, spiritual fulfillment, personal growth, profound love, purpose-driven days, and the ability to make a real difference in people's personal and professional lives.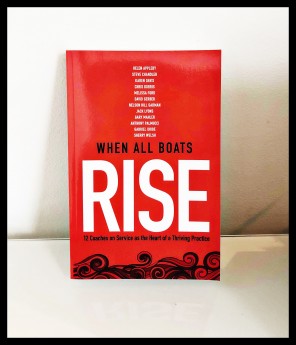 In this book, learn how the world's top coaches place this way of being at the heart of their work, and understand for yourself how service truly is the "rising tide that lifts all boats.
My chapter, Service Starts with You, is simple and clear. I wrote about the early years of my coaching practice with brutal honesty, zero rose coloured glasses. I struggled and suffered before I could see that I was the #1 cause of my problems.
The reviews on Amazon are fantastic, but the best review I've received was from my apprentice, Emma Holmes, founder of Stay Stoked and School of Scratch.
Seeing where Gary is now and where he was back then, all the things he went through made me feel like I can do this!
He's been where I am currently and he came out ok. I need to look after me and take care of me! Prioritising my wellbeing resonated with me as did Gary's honesty – he gives a coach's real experience not marketing or selling how to be a great coach and create $100 billion dollars overnight. Gary has lived it. His life shows me what's possible and I want that possibility for myself.
Gary believes what I believe. Be committed and deliberate about creating your best life from where you currently are.
P.S. How Gary describes working with clients is EXACTLY how he has worked with me. He lives what he has written, no BS.